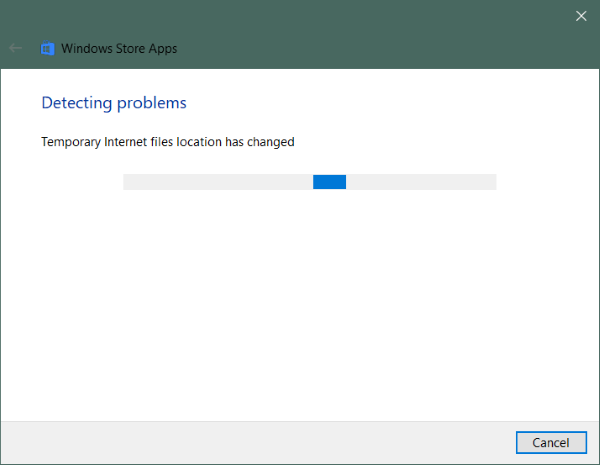 Windows applications cannot connect to the Internet
Have you ever encountered a situation on your Windows 10 computer where Windows Store apps cannot connect to the Internet, but desktop apps can? This is a common situation that is very likely to occur after network hardware changes or driver updates. In this article, we have tried to cover some possible solutions to this problem. As I mentioned, this problem is related to the network card, but it is very unlikely that your hardware is faulty. So you can easily get out of this situation by using the following fixes.
Windows Store apps not connecting to the internet
If your Microsoft Store apps can't connect to the Internet on Windows 11 or Windows 10, try the following suggestions:
Change internet connection
Run the Windows Store App Troubleshooter
Run the Internet Connection Troubleshooter
Reset Windows Store Cache
Are you using a dial-up connection?
Reset Windows Sockets
Perform a network reset.
Let's see these methods in detail.
1]Change internet connection
If you're using a WiFi connection, switch to a wired Ethernet connection – or vice versa, and see if that fixes the problem. If this solves your problem, it pretty much indicates that the problem is with the internet connection. Try contacting your ISP and bring it to their attention.
2]Run Windows Store App Troubleshooter
If Windows Store apps are unable to connect to the internet, it may have to do with the apps themselves. You can try running the Windows Store app troubleshooter to fix common errors and issues.
To run the troubleshooter:
Open Settings.
Go to Update and security and open Troubleshoot in the left menu.
Scroll down to find Windows Store apps and click on it.
Click on Run the troubleshooter.
This should start the troubleshooter and it will start scanning your computer for any issues with Windows Store apps. Towards the end, you can fix all the detected issues, from the troubleshooter itself.
2]Run the Internet Connection Troubleshooter
Similarly, you can use the Internet Connection Troubleshooter to check for any Internet connection issues. It is quite possible that a faulty internet configuration is the cause of this problem. Apply all the fixes from the troubleshooter and you are good to go.
4]Reset Windows Store Cache
Clearing the Windows Store cache won't delete any apps or settings; this will clear the temporary data and give the Windows Store a fresh start. It might also help you fix the problem we are talking about in this article. It is very simple to reset the Windows Store cache.
5]Using a dial-up connection?
There are reports that a Dial-Up connection is not enough to download Store apps, or even if downloaded, the apps cannot connect and throw a 'No connection' a message. You may need to switch to Wi-Fi or Ethernet.
6]Reset Windows Sockets
Winsock is a technical specification that defines how Windows networking software should access network services, specifically TCP/IP. Windows comes with a dynamic link library (DLL) called winsock.dll which implements the API and coordinates Windows programs and TCP/IP connections. But sometimes Windows Sockets or Winsock can get corrupted which prevents you from connecting to the internet. So it may need to be repaired.
To reset Winsock on Windows, open CMD as administrator, type the following and press Enter:
netsh winsock reset
If you are using IPv4, type netsh int ipv4 reset and press Enter. If you are using IPv6, type netsh int ipv6 reset and press Enter. If you want to generate a change log file, add a log file path to the above command, for example, netsh winsock reset c:winsocklog.txt. You will need to restart your computer.
Related: Some programs or applications do not connect to the Internet.
7]Perform a network reset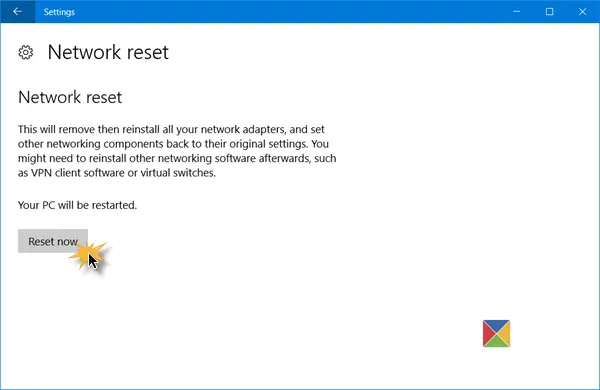 The last solution we are left with is to perform a full network reset.
Open Settings, go to Network & Internetand select Network Reset. Now click on reset now button to start the reset process. Remember that this will remove and reinstall all network adapters with their default configurations. This will erase any proxy or VPN settings you may have configured.
Here are some possible solutions to the situation where Windows Store apps cannot connect to the Internet.
Hope something helps!
Related reading: Edge & Store apps not connecting to internet, error 80072EFD.